Cooperative RPK, headquartered in Vitoria-Gasteiz, joins other companies by sponsoring one of the main parts of the ship the San Juan, a unique project taking place in Pasaia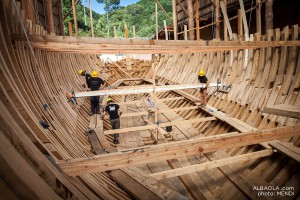 RPK S.Coop., a corporate group which is a leading spring and wire form manufacturer, is sponsoring the spritsail of the ship the San Juan to help promote the San Juan reconstruction project.
Built in the Basque Country in 1563, the whaling ship the San Juan is an example of the first transoceanic cargo ships setting sail from the Basque Country to Terranova. A symbol of the splendour and global hegemony of the Basque maritime industry, she sank in Red Bay in 1565 off the coast of Canada.
Over 400 years later, in 1978 the Canadian archaeological team from Parks Canada discovered the ship and investigated it in an underwater excavation unique in the world of marine archaeology. Following over thirty years of study, it is now the best-known merchant vessel from the 16th Century and has become the an icon symbolizing the UNESCO Underwater Cultural Heritage.
In 2013 as part of European Capital of Culture Donostia/San Sebastián 2016 and with the scientific support of the Canadian Government, work commenced on the construction of the ship the San Juan in Pasaia, Basque Country using 16th Century techniques and with the aim of in the future recreating the voyage made in 1565. Just as it had brought together Europe and America in the 16th Century, the San Juan will help the two countries sail towards the future from their shared past.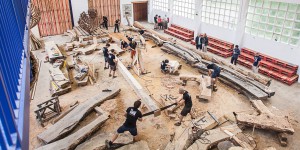 Use of the spritsail started to become common during transatlantic crossings when the wind was favourable. It was the most suitable sail to make use of the wind flowing along the sides of the large sailing ships which other sails were unable to catch. As it was nearer to the prow than any other sail, it was also a sail which 'moved the boat forward' helping the helmsman to keep the boat on course.
The specific function of this sail is the reason why RPK chose to sponsor it: "our passion for work enables us to face the challenge of new markets and new partnerships, staying firmly on course despite new business scenarios".
In the view of RPK, support for this project is based on the philosophy of the cooperative itself and its record of socially reinvesting in new projects. Support for the San Juan adds to other social projects undertaken in Mexico, India, the Basque Country and other parts of the world through annual cooperation with Mundukide.
http://www.albaola.com/en/site/sponsor-a-piece
For further information:
ENARA NOVILLO. Head of Marketing
T. 943 39 24 26 / E. albaola@albaola.com
www.albaola.com